Posted:
June 26th, 2014 |
Author:
Olaf Siegert
|
Filed under:
Newspost
|
Tags:
Downloads
,
rankings
,
RePEc
|
Comments Off

on EconStor now in RePec TOP 10
Latest statistics sees EconStor among the ten most heavily used archives in RePec
Most Economists know, that RePEc publishes rankings on publications, authors and research institutions.  Less known is the fact, that RePec also provides statistics on it's contributing archives and how they perform. These archives can come from university faculties (e.g. for their working papers), from publishers (for their journals) or from repositories (either institutional or subject based).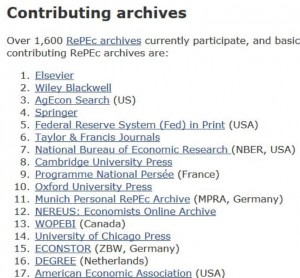 A ranking of the largest archives is provided on the RePEc homepage (see also screenshot on the right).
As a subject repository with a focus on the German Economics community EconStor provides it's RePEc input services for over 100 institutions, which places as amont the TOP 20 archives with respect to size.
But even more pleasant (and also more important to our customers) is the fact, that papers on EconStor are also heavily used. Looking at the detailed LogEc statistics for all contributing archives in RePEc, we find that EconStor (acronym "zbw") is at number 10 concerning the use of our archives (number of downloads).
---